Honda Accord Hybrid Performance
Parallel Performance.
The Accord Hybrid updated its 2021 lineup last year. Now, the 2022 Accord Hybrid is the perfect mixture of power that provides excellent fuel economy and fun entertainment, making this midsize sedan the ideal car for all drivers.

The 2.0L Inline-4 Hybrid engine generates 212 hp and 232 lb-ft of torque. That is the most power and torque in its class. The drivetrain is Front-Wheel-Drive (FWD) and ready for daily commutes or weekend getaways, It has a Continuously Variable Automatic (CVT) transmission that contributes to the overall exhilarating driving experience. When you have an impressive fuel economy of 48 MPG city/ 47 MPG highway you can take the scenic route worry-free! Travel near or far in this charming Accord Hybrid and spend less time at the gas pumps.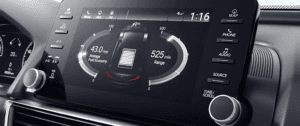 Thanks to the unique configuration of the two-motor hybrid system, the Accord Hybrid also can spend more time operating solely on electric power than competing hybrid models, imbuing Accord with a smoother and more refined driving feel.